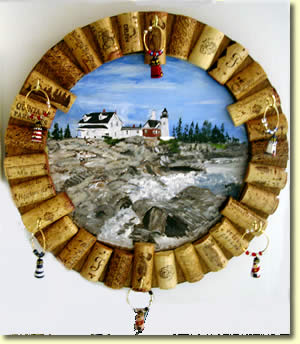 Figuring out how much wine you need for a party might seem like an impossible task until you realize there are a few questions that will lead to simple answers that assure the success of your party. Once you have identified your questions and answers, check with the most knowledgeable wine merchant you can find, add a few bottles to take care of emergencies, and you are well on your way to a successful party.
Equivalents
One, 750-millimeter bottle of still wine = 6, 4-ounce glasses.
One, 11/2 liter bottle of still wine = 12, 4 ounces glasses
One bottle of champagne is 24-26 ounces and referred to as a quart in the trade. This is not a true measure but the bottle usually produces about 6 flutes or 7 saucer glasses of champagne.
A case of champagne = about 72 drinks.
Wine Glasses
Matching wine glasses are not necessary but if all your glasses for a particular type wine are the same size you have a better chance for portion control and less waste; also, they look better. If you really lack enough glasses but like to give parties, a trip to the restaurant supply store might be in order. They will have a range of sizes and grades that are not overly expensive, but all of them will most likely offer a sparkling presentation.
Ideally, you should have enough glasses to avoid excessive glass washing during the party.
The equivalents offered here are based on 4-ounce servings. Before party day, select glasses to be used, pour a 4-ounce serving into each size glass (red wine, white wine, etc.), and become familiar with how the wine looks in the glass so that you will be able to measure by eye.
The amount of wine depends, somewhat, on the size of the glass. Large bubble glasses should not be filled more than half way; smaller wine glasses should be filled no more than ½ to ¾ inch from the top. Four ounces that fail to reach these marks will not necessarily seem skimpy but will give the wine plenty of room to breathe.
Four-ounce flutes or tulip-shaped glasses retain champagne bubbles better than saucers.
The Occasion
Cocktail parties sometimes seem odd to visitors from other countries, but the American cocktail party has taken its place around the world as an interlude for socializing and having a bite to eat to fortify oneself before dinner.
When the invitation specifies the party is from 6:00 to-8:00 p.m., this usually means the cocktail party is a prelude to dinner or another event. If cocktail party hours are later, 6:00-9:00, 7:00-9:00, or simply invite guests to come at 7:00 p.m., guests have the right to expect food and drinks to be more substantial.
A fairly conservative, but reliable guideline, is three drinks per guest per hour.
The Guests
Always take a close look at your guest list. Heavy drinkers and teetotalers seem to balance themselves out, but young guests usually signal additional beer drinkers.
Adjust your wine order so that you will always err on the side of excess. Unopened cases, and usually unopened bottles, can be returned. Also, this is the perfect time to restock your personal wine supply.
The Wine
There is more to serving wine at a party than figuring out the number of bottles and placing the order.
Keep things simple but offer a small choice among red and white, sweet and dry. Ask the wine merchant for specials or suggestions if you are unsure.
If there is a special wine, like May wine in spring, an ice wine in season, or champagne at Christmas, that you would like to feature, make this a highlight of the event backed up by offerings from your liquor cabinet.
Always make sure your personal liquor supply is in good order to fill a special request.
Finally
This bench mark of three drinks per hour will stand you in good stead for almost any party, from a cocktail party to a sit-down dinner party where you might pair wine with food offerings. Remember, if you err, always do so on the side of excess.
Source:
1. The Dinner Party Wine Bottle Calculator | VinePair
2. Are Sports Drinks Meant For Non-Athletes?
3. Party Planning – Table & Vine

Image Credit
www.austinprop.com